In page users of Invaders of Rokujouma Wiki community can propose and vote for the best article of the month, for such is permissible for an article as featured is proposed for the next month, so you have to wait 3 months once it has been published on the front page of the wiki, this is so that other articles might chance to be chosen.
Current featured article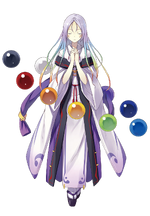 The Goddess of Dawn is the creator of the universe. She is worshiped by both the underground people and Forthorthe. She is summoned whenever any of the nine girls fuse with magic, for as of yet unexplained reasons. She is also the self-proclaimed "First and last invader."
Read more >>
Candidates
↓↓↓ Place your bid until the last ↓↓↓